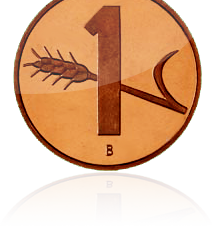 Varieties/Errors: Gold coins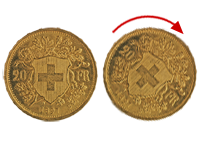 Rotations 20 francs (Vreneli)
All information refers to the rotation of reverse to illustrated side, clockwise with regard to the normal position.

Variations of edge embossment as of 1889
The edge embossment for the writing is divided into three segments.
Changes in the arrangement of the segments have created variants of the normal positioning.

1927, curl in front of neck
Additional curl in front of the neck.
Occurrence: very rare
f
vf
ef
unc
-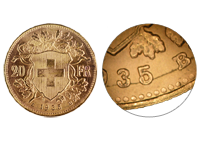 1935 LB, die scratch
Die scratch along almost the whole rim on the reverse.
Occurrence: rare
f
vf
ef
unc
-